STEAMPUNK MEDIA: GALLERY OF CURIOSITIES BRINGS YOU PODCASTS AND NEW FICTION
GALLERY OF CURIOSITIES BRINGS YOU PODCASTS AND NEW FICTION
Good Steampunkers, we love a classic novel. From Jules Verne's Journey to the Centre of the Earth to HG Wells' The War of the Worlds, the inspiration was drawn from so many things steampunk – from cosplay to video game worlds, from gadget creation to event theming – is indisputable. 

And so, in the late 20th century, authors such as KW Jeter and Tim Powers brought us new, powerful works of fiction. Time travel is still an ever-present theme and with the passage of time, they and others brought us re-imagined historical figures and started immortalising the cross-cultural human milieu and its effect on steampunk sensibilities by finely drawn characterisation.

Yet, the steampunk imagination did not stop there. New voices continue to add their voices and visions – hopeful and macabre. The capacity to locate these new soothsayers is unparalleled through the portals known to us as the interwebs. Through time, space and place, the tenacious thought tentacles of new writers and media makers reach out and take hold of our imaginations as they birth potent alternative realities.

With that in mind, we aim to bring you news on the latest whereabouts of emergent steampunk prophets!

Gallery of Curiosities showcases 'a fiction podcast of weird, curious and horrible stories'. You can download podcasts to enjoy at your leisure. 

Images that reference the obvious inspiration behind this publisher of new media's clever name – the Cabinet of Curiosities – immediately spring to mind:
Resonances of this peculiarly Victorian practice of collecting and displaying 'strange' or 'exotic' paraphernalia largely collected by travellers with deep pockets (or those they sponsored for the purposes of scientific exploration) are conjured up as you listen to the podcasts on their site. 
At the Gallery of Curiosities, vestiges and specimens of antiquity are deftly reimagined and powered anew by the breathtaking imaginations of the roster of talent whose works are showcased on the site.
Gallery of Curiosities is generous about posting links to author and peer media pages: a post on the latest podcast – Episode 26 Steam and Hot Air by Zach Bartlett offers links to the story transcript as it appears in Mad Scientist Journal. Erstwhile makers who enjoy cucumber and club sandwiches alike will chuckle about various inventions of Bartlett's characters such as the Professor's Reciprocating Steam-Powered Bread Slicer and Sandwich Arranger where a poorly placed exhaust valve leads to soggy lunchtime victuals. Recognising the everyday struggles of makers in their bid to create the extraordinary is just one aspect that makes this piece simultaneously transcendent and relatable.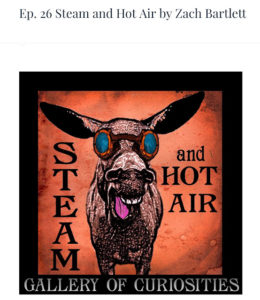 The marvellous line (we won't give the fine wording away) which describes the Professor's announcement of each new invention where each word in the gadget is inherently capitalised raised an involuntary chuckle. What a marvellous observation of the popular semantic trend within steampunk maker circles! Why we here at SteampunkWayOfLife do the very same thing with TheGallantMan's audio inventions: our naming of Sir Round A Sound which you can commission is a case in point.
Gallery of Curiosities regularly advertises auditions for podcast character voices. Therefore, through this marvellous new media publisher, you may get your start on the airwaves helping bring new stories to life! One of their well-loved narrators, Vic Mullins, possesses a Scottish brogue so lusty that we were fairly brought to our knees, handkerchiefs a-fluttering, when we listened to Episode 22 Last of the Spice Schooners by Philip Brian Hall. Hall's powers of description and a keen sense of socio-historical accuracy are perfectly complemented by Mullins' textured tones as the story unfolds of a plague ship that enters London Pool 50 years overdue with a crew suffering from…something…It is a sublime nautical tale of horror.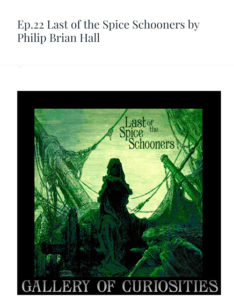 So, good Steampunkers, whether or not you are enjoying tea on a Sunday afternoon or whether you are about to board modern conveyances that spirit you towards the labour-currency exchange deal you have transacted with the modern world in which you find yourself deposited, download a few podcasts from Gallery of Curiosities and time travel in your mind…
Get the Jules Verne Leather Bound Classics from Amazon on your Kindle now!
I hope you enjoy reading these books and if you have any questions please comment below.